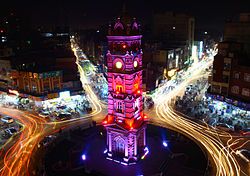 Faisalabad (Punjab)
Faisalabd, a major industrial centre and 3rd most populated city in Pakistan, is located in the northeast alluvial plain of Punjab at the centre of the lower Rchna Doab, at the distance of 184 km from Lahore through Islamabad-Lahore Motorway M-2 turn left from Pindi Bhattian, 143 km through Faisalabad Road.
Faisalabad is the first planned city by British Ruler in India, and named after Sir James Broadwood Lyall, Lieutenant-Governor of Punjab, as Lyallpur, then in 1970s, its name was changed from Lyallpur to Faisabad with the name of King Faisal of Saudi Arabia.
Faisalabad Map
Main Locations in Faisalabad
Chenab club
The Chenab Club is the social club in Faisalabad. It is located at the distance of 2 km from Faisalabad Railway Station via Mall Road and turn right on Club Road. It provides a variety of activities to all of its members and visitors. The sports...