Head Tareemo (Punjab)
Trimmu Barrage, also called Head Tareemo, is located on the Chenab River near the village Atharan Hazari in Jhang at the distance of 290 km from Lahore on Lahore-Islamabad M-2, turn on left from Pindi Bhattian interchange on Moterway M-4. Turn left for Jhang-Gojra Road and finally drive on Noorpur Thal-Shergarh Road to access the Head Treemmo. There is a confluence of the River Jhelum and River Chenab before this barrage. The purpose of this barrage is to control the flow of water in the River Chenab for irrigation usage.
It is completed in 1939 and its length is 3025 feet. There are 37 gate weir portions to control the flow of water from the barrage. There are three canals discharged from the Trimmu Barrage, Haveli Main Line, Trimmu Sidhnai Link Canal, and Rang Pur canal.
Another interest of this site is the fishing, tourist from various location of Punjab come here and enjoy fishing specially in winter season. There are different kind of fish available in the barrage such as Sole, Rahu, etc.
Head Tareemo Map
Picture of Head Tareemo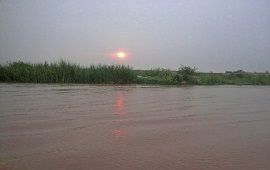 Sunset near the Chenab River
The Chenab River is one of the major river in India and Pakistan. It starts from the upper Himalayas in the Lahaul and Spiti in Himachal Pradesh,...