Murree (Punjab)
Murree, an ideal and modern hill station, is situated on the Pir Panjal Range in Punjab at the altitute of 7,516 feet, at the distance of 72 km from Pawalpindi throuhg Islamabad-Murree Expressway - N75. It is easily accessible from Rawalpindi and Muzzafarabad.
A large number of tourists visit Murree every year especially in winter season to enjoy the snowfalls. The most visiting place in Murree is Mall Road, where tourists enjoy evening walk and shopping.
The Murree Galliat region is known for its landscape covered with pine and oak trees which create an amazing scenic beauty of the area. From Kashmir Point, one can see the snow-capped peaks of Kashmir region in a clear weather.
Patriata, at the distance of 15 km from Murree, is the main attraction of the town. There has chairlift to enjoy the valley from the top. Patriata is the highest point in Murree.
Pindi Point has an attraction to get the broader view of Rawalpindi and Islamabad city from the Murree Hills.
Murree Map
Main Locations in Murree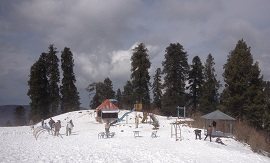 Ayubia
Ayubia, also known as Ayubia National Park, is located at the distance of 80 km from Rawalpindi, in Abbottabad, Khyber Pakhtunkhwa. It is situated at an elevation of 8,000 feet above sea level and large collection of pine forest in Pakistan and...
More Pictures of Murree
GPO Murree
GPO is an historical building in Murree near the end of the Mall Road, Murree. It was constructed in British era. GPO Chowk Murree is the most...