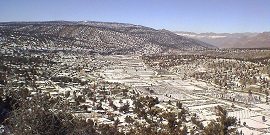 Koshki Valley Ziarat (Balochistan)
From Prospect Point Ziarat, you can enjoy panoramic view of the Koshki Valley in front of you.
About Prospect Point Ziarat
Prospect Point is located 6km from Ziarat city at an altitude of 2,713 meters, which gives a splendid view of Koshki Valley. It is on the hill surrounded by Ziarat city. At the top of the hill, you will get a beautiful view of the valley sloping downside.
From the top of the hill, you can also get a wonderful view of the highest peak in this area, known as Khilafat having a height of 3,487 meters.
Picture Location Map