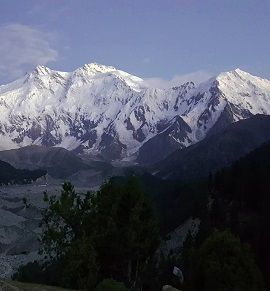 Nanga Parbat Rakhiot Face (Gilgit Baltistan)
Nanga Parbat Rakiot Face is the sharp vertical face of Nanga Parbat Mountain. It rises 22,966 feet from Indus River valley in just 25 km. Fairy Meadows is the lush green plateau in front of it.
About Nanga Parbat
Nanga Parbat, also known as Killer Mountain, is located on the border between Diamer and Astore districts. It is the 9th highest mountain in the world, having a height of 8,126 meters. It is the most difficult mountain to climb. The weather conditions here, are too much uncertain, within few minutes, it covers with clouds and temperature drops below freezing point.
It has a sharp vertical and prominent peak on all sides, rising 15,090 feet from the base camp from the Rupal Face, whereas it rises 22,966 feet from Indus River valley on the Rakhiot Flank in just 25 km. The north side leading toward the Indus River is covered with a number of subsidiary summits including North Peak, also known as Chongra, which is more difficult to climb.
Fairy Meadows is the splendid place to visit in front of Rakhiot Face, which is full of lush green landscape. Tourists can enjoy the beautiful weather here with a splendid view of Nanga Parbat in front of them. One-night stay gives you the chance to observe the sky full of stars in clear weather.
Beyal Camp is the next point after Fairy Meadows to get a closer view of Nanga Parbat. It is a resting point to start the next most dangerous 4-5 hours trek toward Base Camp in front of the Nanga Parbat. Trek passes through the Riakot Glacier, which is the most difficult part of the trek.
Picture Location Map