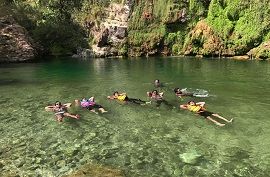 Swimming in Swaik Lake (Punjab)
Swaik Lake is a saltwater lake in the Salt Range in the Chakwal District in Kallar Kahar and it is the most famous spot for swimming and diving. Tourists enjoy the lovely place by taking bath there and used to swim there. Due to salty water, your body floats on the surface of the lake, in spite of this fact, you can also hire life jackets to protect yourself.
About Swaik Lake
Swaik Lake is located along the Nirooni Dhan Nallah in Kallar Kahar in Chakwal district in Punjab. It is also known as Khandowa Lake. It can be easily accessed through the Lahore-Islamabad Motorway M2 at 30km from the Chakwal district. It is at a distance of 10km from the main town of Kallar Kahar.
It is the most popular point for swimming and diving. There is a standing rock on one side of the lake, which is normally used to dive in the lake. Another main attraction of the lake is the waterfall, which makes it more attractive and beautiful. Dropping water from rocks at different locations, gives it a charming effect.
Picture Location Map