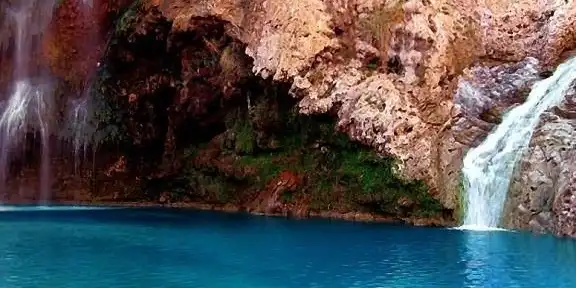 Pir Ghaib Waterfall (Balochistan)
It is a beautiful waterfall and a picnic point located at the distance of 90km from Quetta Railway Sation on Quetta Jacobabad Road in the barren terrain of the region. The water is coming down from the rocky mountain side-splitting into many streams and ponds, surrounded by the shady palm trees. It is a very beautiful spot for a one-day picnic within the sprinkling water of it. Pir Ghaib road is not constructed well, so four-wheeled transport is required from there, otherwise one can enjoy the trekking. The best time to visit the area is in winter, as there is too much high temperature in summer.
About Quetta
Quetta, also known as the fruit garden of Pakistan, is the capital of Balochistan province, located at a distance of 691 km from Karachi. The word Quetta is drived from Pashto word Kwatkot, meaning fort, due to its geographical structure. There is a number of fruit orchards in and around the city, and there are large and different varieties of fruits and dry fruits produced there. Due to its geographical location and scenic beauty, it was also known as Little London in the past. It has a border with Afghanistan, so treated as the hub of trade between Afghanistan and Pakistan.
Quetta has boundaries with Mastung, Pishin, Ziarat, and Killa Abdullah districts. The Quetta-Taftan Highway N-40 runs across the center of the district and can be used to access all of its major towns. It also connected with the Quetta-Jacobabad Highway N-65 that is used to access it from the central Sindh province. It can also be accessed via National Highway N-50 that also connects with Indus Highway N-55. It is also connected with railway track on the Rohri-Chamman main track. It also has International Airport to service all of the local as well as international flights.
Its landscape is composed of mountains with an average elevation of 5,510 feet and a dry plain on the west side. Quetta city is surrounded by mountain ranges and hills named Chiltan, Takatoo, Murdar, and Zarghun. There are number of valleys in these mountain ranges and number of small rivers flow inside these valleys.
Quetta is located on the north side of Balochistan near the Pakistan-Afghanistan border. So it is considered as an important strategic and trade center near Afghan border. The Bolan Pass and the Khojak Pass are the important routes for all kind of trade between Pakistan and Afghanistan. It is also connected with Iran via Taftan border and same route is used for all kind of trade between Pakistan and Iran, and other Central Asian Countries.
Quetta was captured by the British in 1876, so its most of the development has a flavour of the British construction. Sir Robert Sandeman constructed his residency and army station that is the center of the Quetta city. Army Command and Staff College was opened to train the British army in 1907.
Quetta also attracts number of tourists due to its scenic beauty and number of beautiful and attractive valleys in the near vicinity. It is also a gateway to access Pishin valley, Ziarat, and Chaman.
The climate of quetta is dry and harsh in winter season, when temperature normally falls below the freezing point, whereas summer season is much pleasant. Instead of that tourists like to visit in winter season due to snowfall on the surrounded hills and it gives more splendid view to the visitors.
In quetta, there are number of vast size orchards, those produced various types of fruits specially grapes, peaches, apricots, apples, plums, almonds, pomegranates, and pears. It is also famous for high quality dry fruits. So fruit canneries is one of the most important industry in Quetta. The surrounding mountain ranges are also homeland for different types of plants and animals. The most of these mountain ranges are covered with valuable Juniper and Pistachio forests.
Pir Ghaib Waterfall Map