Azad Kashmir is an independent region with its own government and administration, but under the supervision and security of Pakistan. The state of Azad Jammu and Kashmir is controlled partly by Pakistan and India, whereas India has an illegal control of the occupied Kashmir. The dispute of Kashmir was discussed a number of times in the United Nations, but India is not willing to release the illegal occupation.
Kashmir is also known as heaven on earth, and it has most of the beautiful places in the world. Azad Kashmir, part of the state of Jammu and Kashmir, is also the focal place for tourists.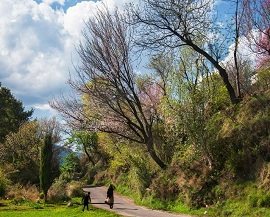 Bagh
Bagh is a mountainous and lush green area of Azad Kashmir in the Himalayas Range and the Pir Panjal Range. It is located at the distance of 88 km from Muzaffarabad via Sudhan Gali on Sudhan Gali Road.