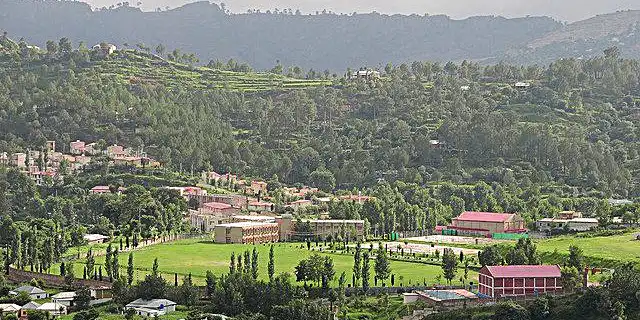 Sudhanoti (Azad Kashmir)
Sudhanoti is situated at a distance of 150 km from Muzaffarabad, Azad Kashmir. It is accessible through Rawalakot Road then following Pallandri Road or Pallandri-Hajira Road via Azad Pattan Road. It is the hilliest area around the Jhelum River. It was also served as the capital of the Azad Kashmir from 1947 to 1949.
Sudhanoti is an area of Sudhan tribe, so it is called heartland of Sudhans. They have their settlements along the both sides of River Jhelum. It has boundaries with Poonch, Kotli, and Rawalpindi districts.
Sudhanoti is full of beautiful and attractive places with pleasant weather around the year. It also receives snow in the winter season, which attracts more visitors to this area. There are different interesting places in this district which are favorite for tourists such as DC House, Pallandri Bawli, Baral Fort, Baithak, Tarar Khel, Devi Gali, etc.
Agriculture is an important profession in this district, producing corn and wheat, harvesting the popular trees. There are number of vast fields of corn along the road as well as deep in the valleys.
Pallandri, also known as Pulandari, is the administrative capital of Sudhanoti at an elevation of 1,372 meters. It is located at the distance of 49 km from Rawalakot via Rawalakot Road, then turns left on Pallandri Road. It is a beautiful location within the lush green trees. It gives a splendid view of scattered colorful huts within the rows of green trees.
Mang is situated at the elevation of 1,372 meters on the left bank of the River Jhelum in the Sudhanoti district. A small road leads toward the town from the Rawalakot Road. It is the part of beautiful and lush green Jhelum Valley along the Jhelum River. It is mountainous region with full of pine and other kind of trees.
Balouch, as called Baloch, is the highest peak at an elevation of 5,804 feet in the Sudhanoti district. There are other two peaks in this area, Bisarahi and Baithak. The overall view of the Pir Panjal Range is easily seen from the Baloch. It is a good place for hikers, as there are several hiking treks there. In winter season, it also receives snowfall in the months of January and February. Tourists can explore more scenic views in winter season during snowfall. It can be accessed from Pallandri via Kotli-Pallandri Road at the distance of 31 km.
Tarar Khel is famous tourist location in the Sudhanoti district at the distance of 32 km from Pallandri via Pallandri-Hajira Road. Garatapar Waterfall is a very attractive and beautiful waterfall near Tarar Khel. It is located at the distance of 5 km on Pallandri-Hajira Road. It is a wide waterfall over the rocks with a magnificient view of falling water in the stream.
Darbar-e-Alia Nerian Sharif is located in Tarar Khel. Nerian Sharif is an historical Islamic site located in a mountainous region of Azad Kashmir. Pir Ghulam Mohiudin Ghaznavi was the first custodian of Nerian Sherif. He was a Sufi scholar and born in 1902 in Ghazni Afghanistan. Hazrat Pir Alauddin Siddique, son of Pir Ghulam Mohiudin, was an Islamic scholar and born in Nerian Sharif in 1936. He established various institutes for religious as well as non-religious eduction. He also started Dars-e-Masnavi on ARY Qtv and NOOR TV. He had built many mosques in Azad Kashmir, Pakistan, and London. He also constructed Mohiudin Islamic Medical college Mirpur and Mohiudin Islamic University Azad Kashmir. His name was included in the list of 500 Most Influential Muslims in the World. He was died in 2017 in London. His son Pir Sultan Ul Arfeen Siddique has taken the charge of Nerian Sharif now. Shrines of Khawaja Pir Ghulam Mohiudin Ghaznavi, his younger brother, and Pir Alauddin Siddique are located in Nerian Sharif. The Darbar can be accessed from Trar Khel via Pallandri-Hajira Road at the distance of 4 km. From Pallandri-Hajira Road turns left on a small road, that leads toward Darbar-e-Alia. The Mohiudin Islamic University is also located near the Darbar-e-Alia.
Sudhanoti Map