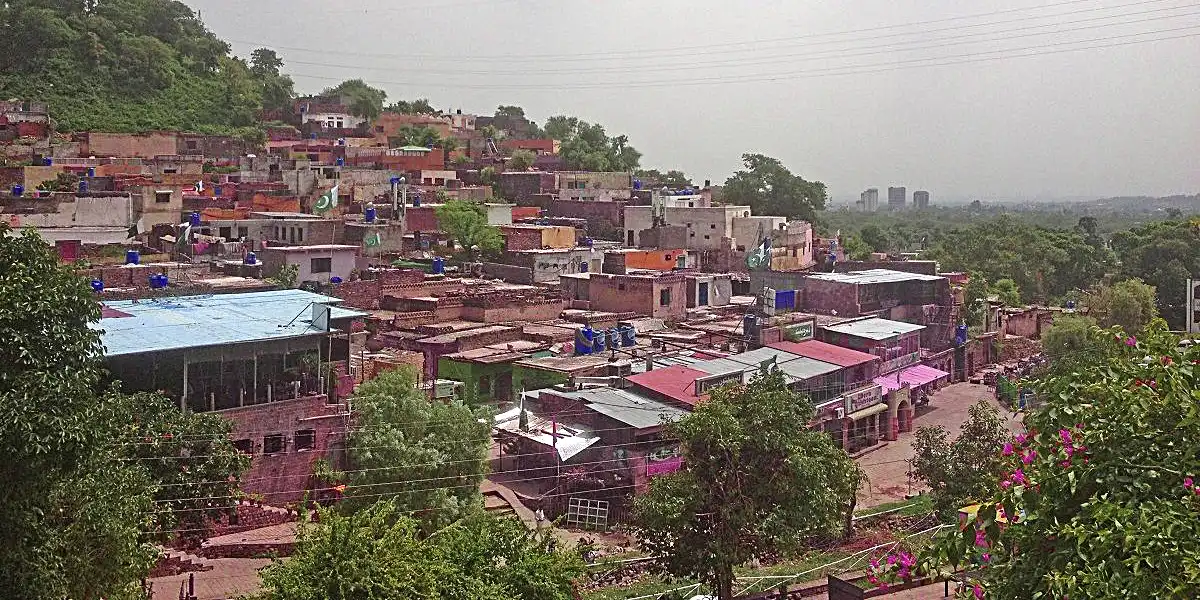 Saidpur Village (Punjab)
Saidpur village is located in the Margalla Hills in Islamabad at the distance of 8 km from Zero-point on the Margalla Ave near Daman-e-Koh. It is a historical village and is now preserved in its original state.
It was named after Sultan Said Khan, he was the Gakhar chief of the Pothohar region during the period of the Mughal Emperor Zaheer-ud-Din Babur. Then he gifted this village to his daughter who was married to Jahangir. During the Sikh regime, the village was converted into a Hindu worship place by Raja Man Singh. These Hindu temples are preserved now to represent Hindu civilization in the region.
After restoration in 2008, Saidpur village becomes an attraction for tourists. There is a number of restaurants to have a wonderful lunch or dinner at the peaceful site of Saidpur village. There is also a gallery behind the Sikh gurdwara about the history of Saidpur village. On the top of the hill, one can see the splendid view of Saidpur village.
About Islamabad
Islamabad, the capital of Pakistan, is located in the northeastern part of Pakistan in the Pothohar Plateau on the foot of Margalla Hills at a distance of 295 km from Lahore at an elevation of 1770 feet above sea level. It can be accessed through G. T. Road as well as Lahore-Islamabad Motorway. It was declared as the capital of Pakistan in the 1960s by cutting land from Punjab province. Benazir International Airport is linked with all over the world to attract foreign visitors as well as visitors from other cities of Pakistan. It is properly planned city just like London in United Kingdom, but it gives more scenic views due to the Margalla Hills and mountaineous landscape.
It is a most beautiful and modern city of Pakistan with neat and clean roads in the lush green Margalla Hills. On the Margalla Hills side, its beauty becomes more attractive with a line of green hills around that side of the city. There are a number of visiting places and treks in the Margalla Hills, which attract a number of visitors all around Pakistan as well as from other countries. Pir Sohawa and Damn-e-Koh are the most popular places in these hills. There are number of treks in The Margalla Hills, which gives a splendid experience to trekkers and hikers. There are a number of other visiting places such as Shakarparian Hill Park, Faisal Mosque, Rawal Lake, etc. Saidpur village is considered one of the earliest human settlements in Asia. Visit to Saidpur village is really a valuable for history lovers. Pakistan Monument is a wonderful place to learn about the entire history of Pakistan that is presented in a very unique way.
Its atmosphere remains pleasant around the year, summer is rather hot but becomes pleasant in the evening due to the neighboring hills of Murree. Most of the tourists visiting Murree, also like to spend some time in Islamabad city. As Murree receives high percentage of annual rainfall, so temperature and weather of Islamabad territory becomes pleasant due to weather in Murree.
It is a modern style city, with all major offices of foreign embassies and administrative offices of the Government of Pakistan. It has the highest cost of living in Pakistan as compare to other cities of Pakistan. It is also the safest city in Pakistan with an RFID-enabled surveillance system.
Islamabad has a 98% literacy rate, which is the highest in Pakistan. There are twenty universities in the city, which serve a number of students from all over the country.
Saidpur Village Map