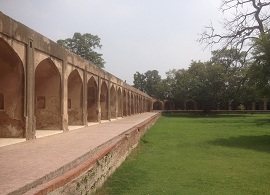 2017-07-06
Akbari Sarai (Punjab)
Just before Jahangir Tomb, Akbari Sarai is the courtyard between Tomb of Jahangir and Asif Khan, constructed by Emperer Shah Jahan for the accommodation for servants looking after the tomb. It contains a series of 180 rooms with front verandah. It has two Mughal style gateways on the north and the south. On the west side, in the middle of compartments, is a mosque with three domes with rend sand stone with inlay work.
During the Sikh, Sarai was used as contonment and during British period, it was just a coal depot for the Railway. In the period, intertiors and decoration of mosque and compartments were severely damaged.
About Lahore
Lahore, the capital city of Punjab, is the most populous and second largest city in the northeast part of Punjab province in Pakistan on the border with India at Wagha. It is located on the bank of River Rive at a height of 213 m above sea level. It is linked with the rest of Pakistan and accessed by all types of transportation. It is the major city to access all of the cities and towns of Punjab province. It has the largest railway station in Pakistan. Allam Iqbal International airport is used for all type of international and local flights.
About Lahore
,
Lahore Gallery
Lahore Map