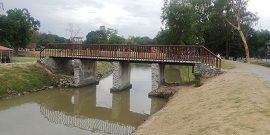 Bridge over Jallo Lake (Punjab)
A wooden bridge is located on the Jallo Lake to access the garden build inside the lake.
About Jallo Park Lake
Jallo Park Lake is an ideal location for one day picnic to boating. Paddle boats and streamers are available there. Inside the lake, there is a beautiful garden with rose flowers and many others. A line of huge trees around it gives one of the memorable evenings with a cool breeze touching the waters of the lake.
Picture Location Map