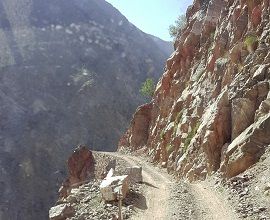 2017-09-28
Dangerous Track toward Fairy Meadows (Gilgit Baltistan)
Track to Fairy Meadows is one of the difficult jeep track due to its narrow path, having inclined clips on one side and deep slope on other side. It is 16 km track full of dangerous curves on the road and narrow passage. Weather conditions on the track, are hot and dry, so tourist must have water supply with them.
End of difficult journey, gives you a view of heaven like landscape of Fairy Meadows.
About Fairy Meadows
Fairy Meadows, a lush green plateau, is located at an altitute of 3,300 meters at the base of Nanga Parbat, giving a splendid view of The Killer Mountain, Nanga Parbat. It is situated at the distance of 410 km from Islamabad via Naran-Chilas Road, turn right on Karakoram Highway after Chilas toward Fairy Meadows, in Diamer district of Gilgti Baltistan. From Raikot Bridge on Karakoram Highway, you have to hire a jeep to reach Tatoo village, then two to three hour trekking, you will be in a heaven of earth, Fairy Meadows.
About Fairy Meadows
,
Fairy Meadows Gallery
Fairy Meadows Map