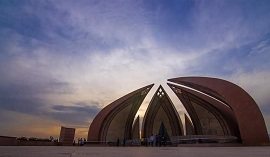 2018-06-23
Evening at Pakistan Monument (Punjab)
Pakistan Monument is an important place in Islamabad, as it represents ideology of Pakistan. There are number of leaves in it showing the unity among all of the provinces of Pakistan.
People love to come here as you will get an bird eye view of Islamabad city there, before sunset, it gives more splendid views of the Islamabad city.
About Pakistan Monument
The Pakistan Monument is a popular picnic spot on Shakarparian Hills in Islamabad, represent the national unity. The monument is shaped just like a blooming flower petals with inner walls inscribed with the outlines of Badshahi mosque, Lahore Fort, Minar-e-Pakistan, Khyber Pass, and Quid Tomb. Four main petals represents four province of Pakistan and three small petals three administrative territories of Pakistan. In the center of petals, there is a centroal platform in the shape of five-pointed star, surrounded by a water. A metallic crescent along the petals surrounding the star, representing crescent and star on the Pakistani flag.
About Pakistan Monument
,
Pakistan Monument Gallery
Pakistan Monument Map