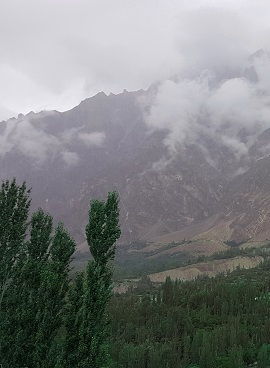 Fog covers Mountains (Gilgit Baltistan)
In foggy days in Hunza, you can see dense clouds and fogs cover the mountains around the valley. Fog just wraps the mountains and gives an attractive white straps around the brown color mountains.
About Hunza
Hunza, a mountainous valley in Gilgit Baltistan, is situated at a distance of 98 km from Gilgit city. There are several high peaks above 20,000 feet in Hunza Valley and provides a splendid view of many high mountains such Rakaposhi (25,551 ft), Bojahagur Duanasir II (24,045 ft), Ghenta Sar (19, 980 ft), and Hunza Peak (20, 571 ft).
Hunza valley has a number of important and popular tourist places such as Larimabad, Baltit Fort, and Altit Fort.
The climate of Hunza is cold, in winter, heavy snow blocks every access to the valley whereas summer is cool and pleasant and attracts tourists in this area.
Picture Location Map