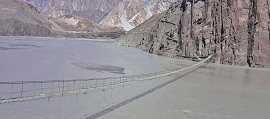 2017-07-06
Hussain Bridge Dangerous Bride of the World (Gilgit Baltistan)
Hussaini hanging bridge is one of the most dangerous bridge in the world, in the village of Hussaini to cross the Hunza River. It connect Hussaini village with Zarabad hamlet with a shortest route, otherwise a long walk along the lake, is used to access the destination. It is located at 45 km from Hunza.
Bridge is constructed with wooden planks which are placed on massive gap on the suspended wires. As you move forward on the bridge, it becomes dangerous to move due to strong wind in the area and swing in suspended wires.
About Hunza
Hunza, a mountainous valley in Gilgit Baltistan, is situated at a distance of 98 km from Gilgit main city. There are several high peaks above 20,000 feet in Hunza Valley and provides a splendid view of many high mountains such Rakaposhi (25,551 ft), Bojahagur Duanasir II (24,045 ft), Ghenta Sar (19, 980 ft) and Hunza Peak (20, 571 ft).
About Hunza
,
Hunza Gallery
Hunza Map