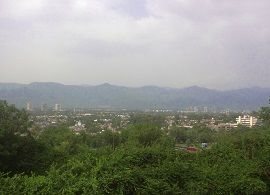 Islamabad View from Pakistan Monument (Punjab)
There are number of spots in the Margala Hills, from where, tourist can get splendid view of Islamabad city. One of the those spots is Pakistan Monument, which is located in Shakaparian Hills. There is also a museum which describe the complete historical background of Pakistan.
About Pakistan Monument
The Pakistan Monument is a popular picnic spot on Shakarparian Hills in Islamabad, represent national unity. The monument is shaped just like blooming flower petals with inner walls inscribed with the outlines of Badshahi mosque, Lahore Fort, Minar-e-Pakistan, Khyber Pass, and Quid Tomb. Four main petals represent four provinces of Pakistan and three small petals three administrative territories of Pakistan. In the center of petals, there is a central platform in the shape of a five-pointed star, surrounded by water. A metallic crescent along the petals surrounding the star, representing the crescent and star on the Pakistani flag.
The monument is built by using granite stone, its floor is also made up by using granite. Behind the monument, there is a marble terrace with arches around it, provides a beautiful view of Islamabad City.
It is just located at a distance of 1 km from Zero Point, Islamabad, on Kashmir Highway.
Picture Location Map