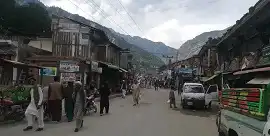 Kalam Bazaar (Punjab)
Kalam bazaar is one of the main attraction for tourists in Kalam to learn about the local culture and food. Number of retail shops are there, where you can purchase local products such as ladies shirts, swati caps, etc.
About Kalam Valley
Kalam, a cool and pleasant hill station in Hindu Kush Range, is located at the distance of 350 km from Islamabad via Mardan and Malakand on the bank of the Swat River in Khyber Pakhtunkhwa. It is a lush green valley with a thick pine forest, meadows, and waterfalls. The best season to visit Kalam is in the months of April to August. Tourists can enjoy very beautiful and charming views of the Swat River in Kalam.
Kalam is a starting point of the Swat River by the confluence of the Gabral and Ushu rivers. It is situated at an elevation of 6,600 feet, Mount Falaksar at an altitude of 19,616 feet, is the highest peak in the Swat Valley and it is visible from Kalam and Mahudand Lake.
Ushu, Utror, and Gabral are beautiful hill stations in the near vicinity of Kalam. Ushu glacier is a beautiful visiting place at a distance of 8km from Kalam accessible through the jeep. At the same spot, a beautiful falling waterfall is another main attraction in the summer season. After crossing Ushu, Mahodand Lake is the largest and beautiful lake in Swat at the distance of 40km from Kalam.
Another charming lake in Utror valley is Kundol Lake, which is at the distance of 19km from Kalam.
Picture Location Map