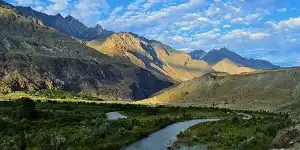 Karambar River (Gilgit Baltistan)
The Ishkoman valley is located along the Karambar River that confluences with the Gilgit River at Gahkuch.
About Chatorkhand
Chatorkhand is the main town in Ishkoman Valley along the Karambar River. It is a deep valley with high mountains. Along the Karambar River, greenery provides a very wonderful view with brownish mountains and snow-capped peaks at the distance.
Picture Location Map