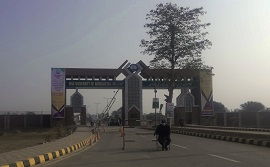 MNS University of Agriculture (Punjab)
MNS University of Agriculture Multan is situated on Old Shujabad Road at the distance of 15km from Multan Railway Station. University offers number of degree programs in various specialization related to agriculture.
About Multan
Multan, the premier center of southern Punjab, is located on the banks of the Chenab River at the distance of 338 km from Lahore. It is accessed via Abdul Hakeem Motorway M-3 as well as National Highway N-5. Multan is the fifth largest populous city of Pakistan. Multan is also known as city of saints due to number of shrines of sufi saints.
Multan is one of the hottest places in summer in Pakistan, but it has a pleasant weather in winter. In summer, temperature may rise above 48 centigrade.
Multan is also known as the City of Saints as there are a number of shrines of different well-knowns Sufis in Multan. The most popular of those are shrines of Bahauddin Zikarya, Shah Ruke Alam, Pir Adil Shah, Shams Tabriz, and Khawaja Awais Kagha.
Multan is famous for its sweet dish, Sonh Halwa. There are number of shops selling Sonh Halwa at the various locations in Multan. Visitors in Multan always prefer to purchase Sonh Halwa as gift of Multan.
Picture Location Map