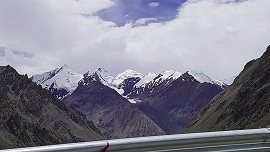 On the height of Khunjerab Pass (Gilgit Baltistan)
Near Khunjerab Pass, Karakoram Highway leads toward Khunjerab Pass on such height, where high mountain peaks touching the ground and you are looking directly on the peak tops.
About Khunjerab Pass
Khunjerab Pass is a gateway between Pakistan and China, at an elevation of 15,397 feet in the Karakoram Range in Nagar, Gilgit. It is the highest border crossing in the World and is located at a distance of 270km from Gilgit main city.
In the winter season, due to heavy snow, the pass remains closed from the end of November to 1st May. The journey from Sost to Kunjerab pass is one the best traveling as swirling along the mountains in the Karakorum Range.
Picture Location Map