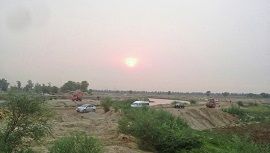 Road to Bakhar near Head Tareemo in Jhang (Punjab)
About Jhang
Jhang is located at the confluence of the Chenab river and the Jhelum river at Trimmu Barrage, on the east bank of the Chenab river. It is accessible from Faisalabad at the distance of 76 km via Jhang Faisalabad Road, otherwise turn right from Lahore-Karachi National Highway - N5 from Chichawatni via Toba Tek Singh at the distance of 90 km.
Large part of Jhang is plain cultivable land, except Kirana Hills near the River Chenab. A part of Jhang extends to Thal extends from the bank of the Jehlum River to the districts of Khushab and Bhakkar.
Jhang is famous for production of high quality rice due to fertile land of the Jhelum and Chenab rivers. This high quality production of rice plays an immportnat role in the exports of country.
The shrine of Sultan Bahu, a sufi poet and scholar, is situated in Jhang and large number of people from various areas of Pakistan visit it every year. Another most important attraction is the tomb of Heer Ranja, who were the main characters of the most famous local romantic story.
Picture Location Map