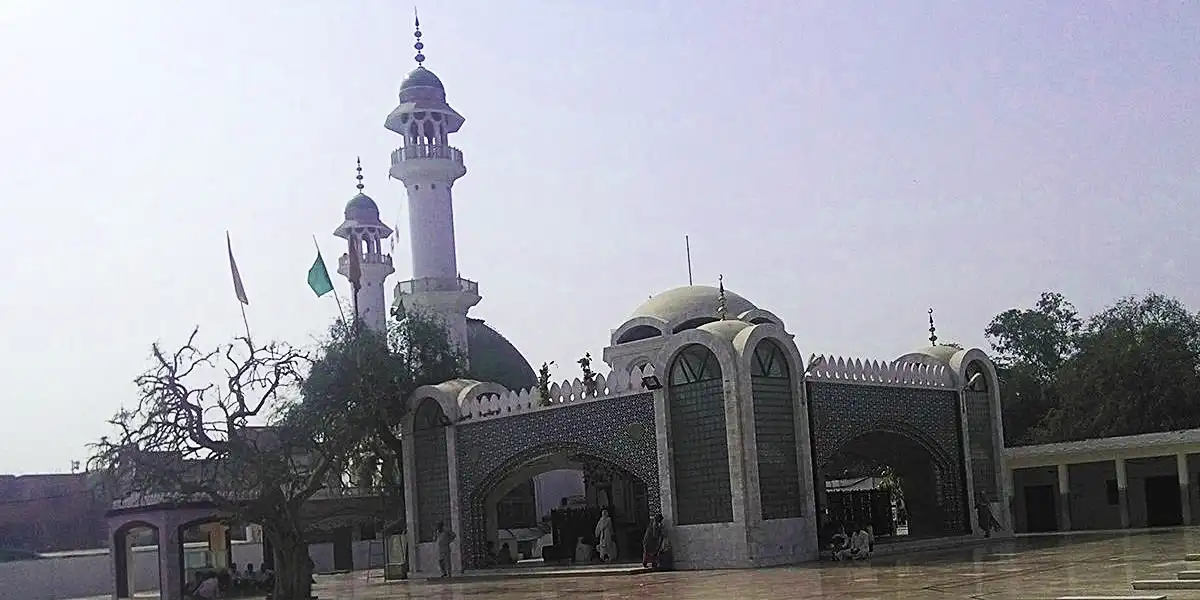 Shrine of Bulleh Shah (Punjab)
The Shrine of Bulleh Shah is situated in Kasur City at the distance of one kilometer from Railway Station on Railway Road on its left side. There is also a mosque beside it, which is beautifully constructed in white and green tiles.
He was a Mughal-period Punjabi Muslim philosopher from 1680-1757, and his actual name was Syed Abdullah Shah Qadri. He is famous for Punjabi poetry, also known as the Kafi. His verse contains various solutions to the sociological issues of the world around human beings. He died in 1758 and was buried in Kasur.
About Kasur
Kasur, land of Bulleh Shah, is just located at the distance of 55 km from Lahore via Ferozepur Road, adjacent on the North of Lahore. There is also an important border post, Ganda Singh Wala, with India. It is connected with Ferozepur in India through Ganda Singh Wala Border. Crossing through this border is stopped now, but flag hoisting ceremony is still hosted there at 5:30 pm daily. Border of Kasur is also connected with Okara, and Nankana Sahab districts.
The importance of Kasur is also very significant due to agriculture. It has the biggest market of wheat and rice. Two important headworks, head Sulemanki and head Balloki are also located in this district, which are the source of major irrigation canals. These canals cover the needs of water in surrounding areas, and vast area is irrigated with these canals in Kasur, Bahawalnagar, and Sahiwal. Balloki Headworks is on the Ravi River, whereas Sulemaki head-works is on the Sutlej River. These headworks and canals were consturcted during the British Rule. The Beas and Sutlej River is also flowed along the border area between India and Pakistan, along these rivers, there are fertile vast lands which is used to produce wheat, rice, sugarcane, and cron crops.
Largest artificial forest reserves, Chhanga Managa which is the largest artificial forest reserves in Pakistan is also located near Chunian in Kasur district. It covers an area 12,510 acres. It was developed in the British regime and woods is transfer to other areas from the forest. For this purpose, a tramway was also constructed there in 1921. There is also a public park for people in the forest to enjoy the health environment of the Chhanga Managa Forest. There is also a train trek for public and boating facility in lake in the park.
The most popular 17th century Sufi poet Bala Bulleh Shah's shrine is also there. He was Punjabi language philosopher and Sufi poet. He was the most famous mystic poet of Punjabi language. His family had migrated in 14-15 century AD from Bukhara to sub-continent in Punjab. Thousands of people from all over the country, visit the shrine every year. There are number famous poems of Bala Bulleh Shah to guide people to love humanity. His poetry is used by number singers in modern music style, and these are famous in music lovers. His poetry is also used to develop number of movies in India and Pakistan. The three-day annual Urs ceremony starts at his shrine on 10th of Bhadon, month of Indian calendar, in the last last week of August.
The shrine of Shah Kamal Chisti is located in Kasur on the hilltop located on the Ferozepur Road. He is popular sufi saint in the Punjab region.
Leather tanning is one of the major industry in Kasur, around one-third of leather tanning industry of Pakistan is located in this city.
Weather of Kasur city is extreme hot in summer season, whereas winter season is more pleasant. It also receives monsoon in the month of July and August each year.
Shrine of Bulleh Shah Map
Shrine of Bulleh Shah Photo Gallery
There is a beautiful mosque in the Shrine of Baba Bulleh Shah in Kasur. Mosque is beautifully constructed with white and green title. There is a two minarets on the side of the central chamber, which also has a green color dome in the center.




In the shrine, there is small display of the belongings of Baba Bulleh Shah, in which the most important is the guitar used by him.




The inner compound of Shrine of Bulleh Shah, is a square building with entrace on three sides. The grave of Baba Bulleh Shah, covered with red and green clothe, is inside this building.