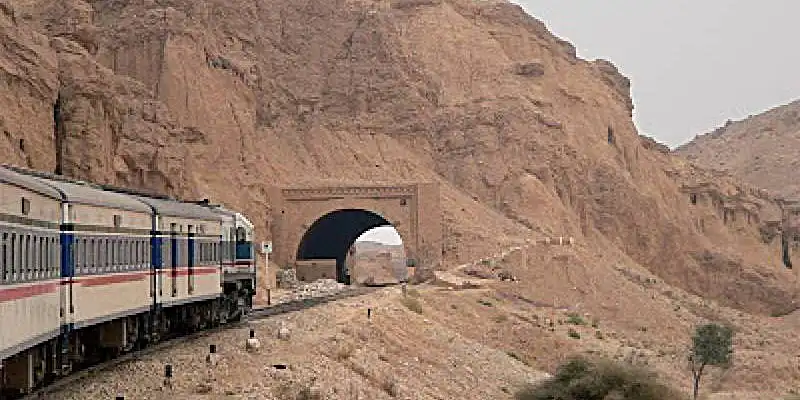 Sibi - the hottest spot in Pakistan (Balochistan)
Sibi is a district in Balochistan Province at the distance of 162 km from Quetta via Quetta-Jacobabad Highway N-65. It is the hottest spot of Pakistan as its temperature may exceed 52.5 degree celcius. It was the oldest district in the Balochistan created by the British Government in 1903.
Sibi is bounded by Kacchi, Harnai, Mastung, Kohlu, Dera Bughti, and Nasirabad districts. The Quetta-Jacobabad Highway N-65 touches the district near Sibi city as well as Bakhtiarabad Belipat town, but it gives access to all of the major towns in the district. It is connected with railway track with Quetta-Rohri track. Sibi was also an important junction during the British regime.
It has diversified landscape including Kacchi Plain, barren and desert like plains, as well as various mountain ranges such as Zeb, Dungan, and Bambore. These various mountain ranges, part of Sulaiman Mountain Range, merge with the Kacchi Plain of the Indus River in the east side. Its land is fertile that is irrigated with small seasonal streams and rivers in Sibi. It can produce best quality of various fruits and vegetables. Different cash crops such as wheat, cotton, garam, etc are produced in the region. Due to lake of water, most of the land in the Sibi district is barren and like desert. The seasonal streams flows for few months and then they become dried and you can observe dried mountain gorges and barren plains everywhere.
Sibi is a historical city and was part of the Hindu Sewa dynasty. Its name was also derived from the Queen of Hindu Sewa dynasty, named as Rani Sewi. After the end of Hindu Sewa dynasty in 7th century, it was ruled Ghaznavid Empire until the end of 15th century. Then it was part of Samma dynasty of Sindh that was replaced by the Arghun dynasty of Afghanistan around 1500. It was taken by the Mughals and remained under their control until 1714. In 19th century, the British got it on lease by signing a contract with the Khan of Kalat.
The Sibi Mela is held annually in the month of January in the Sibi district as a livestock market with cultural festival and various other activities. It was first held in January 1885.
Nari Gaj is an oldest irrigation system in Balochistan at a distance of 20 km from Sibi city. Nari Dam is constructed on the Nari River in 1917 by the British to irrigate the surrounding areas. The Nari River is the major river in the Sibi district and normally flows all over the year. There are sixteen canals extracted from the barrage and water of those canals is use to vast area of Sibi to irrigate.
Victoria Memorial Hall was built by the British Government in 1903. It was used by the local tribes for holding their Jirga events, but now it is served as a museum now to present various articles related to Sibi and Balochistan history.
Sohbat Sarai was built by Khan Bahadur Sohbat Khan in 1920 for the purpose to give shelter to the travelers. It is a beautiful building with vast area. The British Government called it as the Sardar Guest House due to its usage as a residence during Sibi Mela.
Sibi is famous for its pickles and sauces of different kinds. People must purchase pickle whenever visit the Sibi City.
Fort of Mir Chakar was built by Mir Chakar Khan Rind in 15th century. Fort is located in the outskirts of Sibi city. Most part of fort is in ruins due to negligence of authorities. Mir Chakar Khan, also known as Chakar-i-Azam, was well known Baloch Sardar in 15th century. He is considered as Baloch hero of Baloch folk tribes. He was sardar of Rind tribe. He was a worrier and defeated Lashari tribe after 30 years war. After defeated by Sher Shah Suri, he was settled in Punjab near Satghara in Okara in 1518. He helped Hamayun, the Mughal Emperor, against Sher Shah Suri and succeeded to defeat Sher Shah Suri. His tomb is the town of Satghara in Okara district.
The weather of Sibi is extreme hot and dry in summer season, whereas it becomes moderate cool in the winter season. It is also the hottest place in Pakistan exceeding more than 52 celcius in summers. It receives limited amount of rainfalls in the monsoon period as well as negligible rain in the winter seasons too due to western breeze.
Sibi is famous for Oldest district in Balochistan
Sibi is the oldest district in Balochistan and it was given the status of district by the British Government in 1903.
Sibi Map