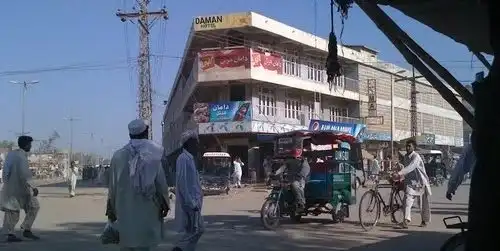 Tank (Khyber Pakhtoonkhwa)
Tank is situated on the foot of Takht-i-Sulaiman Range, at a distance of 267 km from Peshawar on the Tank-Indus Highway Link Road taking right from the Indus Highway N-55.
Tank has boundaries with Lakki Marwat, Dera Ismail Khan, and South Waziristan districts. Tank is connected with other cities of Pakistan by road as well as by railway track. Tank-Indus Highway Link Road is used to access all of the locations in the city.
The Gomal River, Tank Zam River and the Narsas Algad stream are the main source of water in the district. Most of the people in the Tank district involve in farming and agriculture. Due to the Sulaiman Mountain range and its high peaks, the area is suitable for falcons and eagles growth. Selling of these birds is also come there.
Shrine of Pir Sabir Shah Baba is the famous visiting place in the city, where number of tourists and devotees from adjoining areas visit the shrine. The annual celebrations of the shrine is organized annually from June 2 to June 5.
Mama Pir Ziarat is another popular shrine near Umar Adda. Number of devotees from different cities visit the shrine.
Another main landmark is the Nawab Qilla, which is a mud fort on an area of more than 200 kanals. Fort is bounded with high and wide walls with burgs on each corner of the fort. These burgs were used to security of the fort. Wide walls were used to move easily between the burgs. Five to six persons can easily move parallel on the walls. There are many trees with long trunks inside the fort along the walls. There are three gates for entry in the fort. There was the residence of the Nawab Sohib in the center of the fort.
Kot Murtaza Barrage is located on the Gomal River to irrigate the surrounding areas for cultivation. The Gomal River originates in the Paktika Province of Afghanistan. It has total length of 400 km and finally confluences with the Zhob River near Khajuri Kach. It enters in Pakistan in the Waziristan district. It enters in the Gomal Valley in the Tank district and its water is distributed to other areas in the Tank district through Zam System that is an irrigation system used to transport water to different areas in its natural path.
Kot Allah Dad is a small village, where an archaeological site is a place to visit. It can be accessed via the Tank - D. I. Khan Road and turns on the Kot Allah Dad Road.
The weather of the Tank district is hot in the summer season, whereas it becomes cold in the winter season.
Tank Map