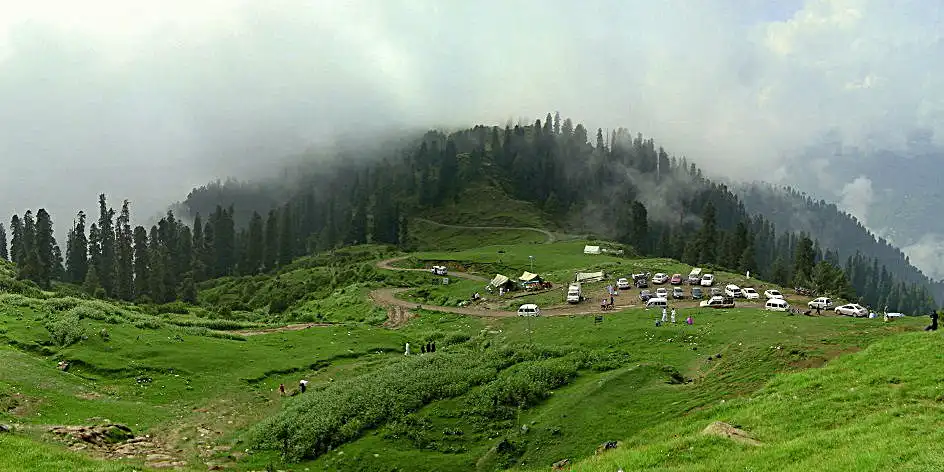 Toli Pir (Azad Kashmir)
Toli Pir is a vast hilltop area situated at a distance of 30km from Rawalakot, Azad Kashmir at an altitude of 8,800 feet above sea level. It is the highest mountain top in this region so you get a bird's eye view of Bagh and Poonch Rivers from Toli Pir.
Toli Pir has a very attractive scenic view in summer as well as in winter. In winter, it covers with white snow everywhere, whereas in summer with lush green grass with a cool breeze. So it is an all-weather hill station and is accessible from Rawalakot in just 30 to 40 minutes.
About Rawalakot
Rawalakot, known as Pearl Valley, is located in Azad Jammu and Kashmir in the Pir Panjal Range at the elevation of 5,374 feet having a distance of 120 km from Rawalpindi via Kahuta on the Rawalakot Road. It is also accessible from Abbottabad by Sudhan Gali Road, then turns right on Bagh Highway, and finally move on Rawalakot Road at Arja.
Rawalakot is a tourist place and there number of best places to visit. It has pleasant weather in summer season and fantastic natural beauty with lush green forest on the mountains. There are colorful flowers everywhere in summer season within the layer of lush green mountainous structure. There are number guest houses and hotels to facilitate the tourists. It is loving place for trekking, rock climbing, paragliding, water sports, etc.
Toli Pir is hilly area and there is a vast meadow at hilltop. It is situated in the Rawalakot district at the distance of 30 km. It is the highest location in Rawalkot and visitors can observe a vast and broader view of the Rawalakot city as well as the view of the Poonch River. It is a point of conjunction of the origin of three different mountain ridges. On the top of the hill, there is a ruin of historical old mazar. As it receives much snowfall in the winter season, so tourists can enjoy the snow in the winter season. It becomes an hub for various snowfall activities in the winter season.
Banjosa Lake is located at the distance of 18 km from the Rawalakot City at an altitude of 6,500 feet. It is an artificial lake, but best tourist resort. The beauty of lake is the dense pine forest and mountains behind the lake. Rest houses are also located near the lake to facilitate to stay at night there.
The Poonch River flows across the city, it starts from Indian-occupied Jammu & Kashmir and ends in Pakistan. From Rawalakot, you can view the beautiful path of flow of the Poonch River.
Nergola Waterfall is the beautiful and scenic waterfall within the lush green hilly area in Rawalakot. It is located at the distance of 5 km from the Rawalakot City and accessed through Rawalakot Road.
Dream Valley Resort is located at the distance of 6 km from the Rawalakot City. It can be accessed via Darak Hussain Kot road. It is situated on a dam, so location is good for different type of water sports activities including boating, water park, huts, water games, etc.
Singola Chamb Waterfall is another attractive waterfall at the distance of 10 km near Singolla town. It can be access through Bagh-Rawalakot Road. Singolla village is also a lush green mountainous location.
The weather of Rawalakot is mild in spring and summer season, whereas in winter season, its weather is much cold and heavy snowfall is also expected. Most of the tourists love to visit in the winter season to enjoy the snowfall. It also receives the monsoon railway from July to September.
Toli Pir Map
Toli Pir Photo Gallery
Toli Pir receives snow fall in winter, so winter is an ideal season to visti Toli Pir and enjoy the snow fall and skating on snow. The surrounding mountain peaks cover with snow in winter season, so gives a beautiful scene of Toli Pir.