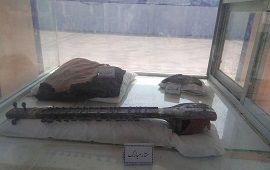 2017-09-28
Bulleh Shah Belongings (Punjab)
In the shrine, there is small display of the belongings of Baba Bulleh Shah, in which the most important is the guitar used by him.
About Shrine of Bulleh Shah
The Shrine of Bulleh Shah is situated in Kasur City at the distance of one kilometer from Railway Station on Railway Road on its left side. There is also a mosque besides it, which is beautifully constructed in white and green tiles.
About Shrine of Bulleh Shah
,
Shrine of Bulleh Shah Gallery
Shrine of Bulleh Shah Map