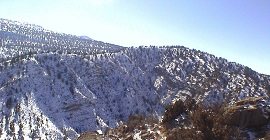 Chutair Tangi Ziarat (Balochistan)
A view of Chutair Tangi in winter season with full of snow.
About Chutair Tangi Ziarat
Chutair Tangi is one of the gorges along the road leads Ziarat City. Theare are more than six gorges around Ziarat, which are formed due to sprig water from the mountains. These natural streams in Balochistan are known as Karez.
Picture Location Map