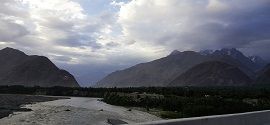 Danyor Nallah (Gilgit Baltistan)
Danyor Nallah is one the main tributary of the Hunza River, that generted through glaciers around Rakaposhi Mountain. It joins with the Hunza River in Danyor. Karakoram Highway crosses over Danyor Nallah and then continues toward Khunjerab Pass along the Hunza River.
About Danyor
Danyor is a tehsil in Gilgit District in Gilgit-Baltistan and located at the distance of 9 km from Gilgit City via the Nomal Road. It is located on Karakoram Highway on the opposite side of the Gilgit River, and at a distance of 19 km via Karakoram Highway. It is also a point of confluence of the Hunza River and the Gilgit River. After crossing Danyor Nala, Nagar district is started, which is separated from Hunza-Nagar.
Picture Location Map