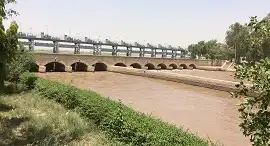 Eastern Sidiqia Canal (Punjab)
On the left bank of Sulemanki Headworks, two major canals, Fordwah and Eastern Sadiqia Canal are originated. These canals are used to irrigate large area of Bahawalpur district. Eastern Sidiqia canal moves along border between India and Pakistan, so it is considered as important defense element.
About Sulemanki Headworks
Sulemanki Headworks is constructed on the Sutlej River between 1922-1927. It was the part of the Sutlej Valley Porject and an agreement between the Nawab of Bahawalpur Amir Sadiq Mohammad Khan V and the British Government.
It is the source of three major canals to irrigate the area of Southern Punjab and Bahawalnagar district. These are Upper Pakpattan canal from the right bank and two canals Fordwah and Eastern Siddiqia Canal from the left bank. Eastern sadiqia canal runs along the border of Pakistan and India.
Picture Location Map