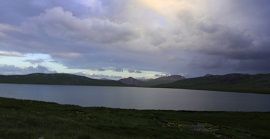 Evening at Sheosar Lake (Gilgit Baltistan)
Evening view in Deosai Plains, is a real adventure of your life, as you can clear curly line between earth and sky. In the absence of moon, you can enjoy full view of stars in the sky. But you have to care there in night, due to free movements of wild animals in Deosai Plains.
About Sheosar Lake
Sheosar Lake is located in Deosai National Park at the elevation of 13,589 feet and at the distance of 16 km from Chillum from Astore District, whereas from the Skardu side, it is at the distance of 65 km. As Deosai is a peaceful place, so Sheosar Lake is also popular for a calm and peaceful atmosphere within the endless plains of colorful flowers. Wild animals and birds can also be observed there.
Picture Location Map