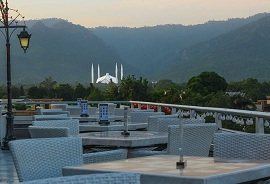 Faisal Mosque view from Monal (Punjab)
Monal is good restaurant in the Margala Hills at the distance of 9 km from Islamabad. Number of Pakistani and foreign dishes are available there. You can enjoy the pleasant atmosphere of the Margala Hills there. Evening view is more charming with the sparkling lights of Islamabad city.
Faisal mosque is largest landmark in Islamabad, which can be easily viewed from Dam-e-Koh and Monal.
About faisal mosque
Shah Faisal Mosque, the most famous place in Islamabad, is located in the Margalla Hills at a distance of 10km from Zero Point Islamabad. It is amazing creativity for those coming to visit the mosque. It is among the beautiful mosques in Pakistan. It has four beautiful minarets on the four corners of the look the mosque. The view of the mosque at night is more charming and eye-catching. Its construction was funded by King Shah Faisal of Saudi Arabia.
Picture Location Map