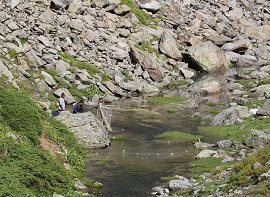 Fishing in Rama Lake (Gilgit Baltistan)
Rama Lake and its surrounding streams are good place for fishing. Trout is one of the major kind of fish there.
About Rama Lake
Rama Lake is located in Choungrah village in the Astore District in Gilgit-Baltistan at a distance of 122km from Gilgit city. It is one of the beautiful lakes in Pakistan with the wonderful beauty of greenery and snow-covered peaks around it. It is easily accessed from Rama Meadows in just a one and half hour trek. which a lush green meadow in the Astore valley.
Picture Location Map