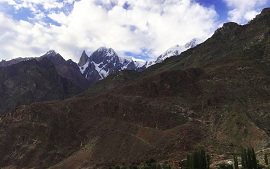 Hunza Peak alongwith Ladyfinger Peak (Gilgit Baltistan)
Hunza Peak along with Ladyfinger Peak are most attractive peaks in Hunza Vally and known due to its uniqueness of not having snow on its top.
About Hunza Peak
Hunza Peak is located in Karakoram Range on the right side of Ladyfinger Peak, on the southwest ridge of the Ultar Sar massif in Batura Muztagh, at an altitude of 20,570 feet. Ladyfinger, Bublimating Peak, is a distinctive rock spire and snowless peak at this height of 20,000 feet. Both can also be seen from Altit fort within a beautiful landscape of Hunza valley.
Picture Location Map