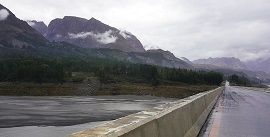 Hunza River near Sost (Gilgit Baltistan)
Hunza River is the main river in Gilgit-Baltistan, Pakistan. It is generated by the confluence of the Kilik and Khunjerab nalas from the glaciers. It flows throughout the Hunza and Gilgit in the Karakoram range along the KKH. It joins with Gilgit River, which finally merges with Indus River.
About Sost
Sost is the last town in Gojal, Gilgit-Baltistan, Pakistan at the distance of 184 km from main Gilgit city on Karakoram Highway before China Border at Khunjerab Pass. It is the last town inside Pakistan on the Karakoram Highway before the Chinese border. Thi is the small market and Dry Port for the carge coming from China, so custom departments and immiration offices are also located in this town.
In winter due to heavy snow, border crossing between China and Pakistan through Khunjerab Pass remains block.
Picture Location Map