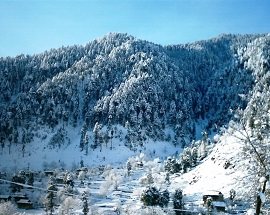 Leepa valley (Azad Kashmir)
About Leepa Valley
The Valley is located at a distance of 105 km on metaled road from Muzaffarabad in Azad Kashmir, Pakistan. It is an attractive place for tourists, situated on mountains covered with pine trees. It can be accessed from Muzaffarabad to Reshian which is at an altitude of 10500 feet at sea level and then a jeep must be hired to cover the remaining 38 km, descends into the valley at an altitude of 5500 feet at sea level. Tourist visits this valley to enjoy its splendid beauty. The overall valley is divided into Reshian, Leepa, Chananian, and Reshian Dao Khan.
It is the most romantic and charming location for tourists, its magical spell over tourists will have remain for a longer period of time. Normally valley available for visitors in the summer season, as in summer it becomes more attractive with its mosaic style green fields. In the winter season, the valley is totally covered with snow whereas in summer weather cool and pleasant.
Reshian
It is the gateway of the Leepa Valley, and located at the distance of 67 km in the west of Muzaffarabad.
Chananian
It is situated on the opposite side of Leepa village near LOC at an altitude of 2226 meters at sea level. It is covered by a thick pine forest.
Reshian Dao Khan
It is located at a distance of 75 km from Muzaffarabad and well known for its amazing natural beauty. It is a calm and peaceful place with cool environment to visit.
Leepa village
It is situated at an altitude of 6302 feet at sea level and one of the most fascinating and charming places in the valley. It is located at a distance of 38 km from Rashian. It has green fields of best quality rice, apples, walnut, and cherry trees, which provide a real magical view of the valley.
Picture Location Map