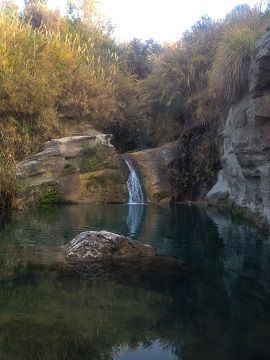 Magical view of Kanhatti Waterfall (Punjab)
Behind the small lake in Kanhatti Garden, the beautiful view of waterfall, has a magical impact on the tourists. They love to stay there for number of hours to enjoy the pleasant weather there.
About Kenhatti Waterfall
Kenhatti waterfall is a very charming place in Kenhatti Garden, which is easily accessed via 2 km trek in the garden. At the end of trek in Kenhatti Garden, a beautiful and fantastic waterfall is one of another attraction for tourist. They can enjoy the pleasant atmosphere around the small lake near waterfall and even take bathe but be careful as stones and rocks are slippery there. This waterfall and lake is part of the Gambhir River in this area.
While leading toward waterfall on the trek, tourist can enjoy the lush green views of the different sites of the garden and observe number of fruit trees. Another major attraction is the Kenhatti village on the trek, which is a traditional style Punjab village with mud houses, grazing cattle, traditional living style of natives and natural environment.
Waterfall is developed due to the formation of big sized rocks, and a small lake is also developed on rock structure of the area. It is a lovely place to relax there for few hours with the clam environment and pleasant weather. The shades of green and brown bushes, make its water more colorful, which forces the visitor to praise its beauty.
Picture Location Map