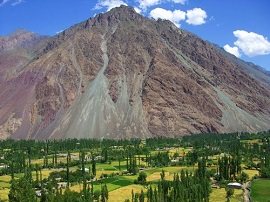 mountains of yasin (Azad Kashmir)
About Yasin Valley
Yasin Valley, Babaye-e-Yasen, is a valley in Hindu Kush Range at an average altitude of 26,00 meters, in Ghizer district, Baltistan, at the distance of 128 km from Gilgit main city and accessible through Chitral Road from Gilgit along the Gilgit River, at Gupis turn right on Yasin Valley Road along with the Yasin River.
The lower part of Yasin valley is wide and flat and due to the availability of water, it is full of layered irrigated fields along the Yasin River.
There is a number of high passes in the Yasin Valley connect with the adjoining areas. The most important of those passes are Darkut, Buroghul Assumbur, Thoi, etc.
Picture Location Map