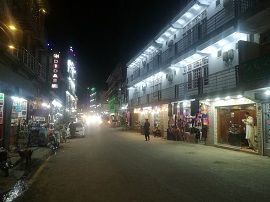 Night view of Bahrain bazaar (Balochistan)
Bahrain became a modern style hill station after the construction of modern hotel buildings. At night, it gives a splendid view of Bahrain bazaar.
About Behrain
Behrain is a hill station located in Swat district of KPK. 60 km North of Mingora at an elevation of 4700 ft on the right bank of Swat River. It is named Bahrain due to its location at the confluence of the Daral and Swat rivers. It is known for its riverside tourist resorts, local handicrafts, and its view of the merging of the Daral and Swat Rivers. It also serves as a base camp for the trail that leads to the Daral & Sadie lakes.
Talking about the history of Bahrain its ancient cultural city with the finest culture usually experts in drawing, architecture, musical instruments and many delicious cuisines. Early history many khalifas come and rule but now it's famous for its beauty. Mountainous region with the nature touch the sky.
HOW TO ACCESS:
Many people go to Bahrain by buses and cars. It's a place where people usually go for the trip and for relaxing themselves from the busy life in rural areas of Pakistan. Famous transportation of Bahrain are carts, bikes, cycles actually it represents rural area.
WEATHER OF BEHRAIN:
Mountaineous region far above from the land usually touches the sky so weather is highly magnificent and cold. Sumemrs are not very hot usually rain in summer and winters are too cold snowfalling occurred.
Picture Location Map