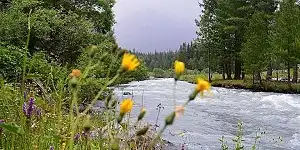 Panjkora River (Khyber Pakhtoonkhwa)
Panjkora River is flowing through the valley and also one of the main river in Dir district. It finally merges with the Swat River in Bajaur Agency, Pakistan.
About Kumrat Valley
Kumrat valley is located at the distance of 302 km from Peshawar in the Upper Dir, Khyber Pakhtunkhwa. It is accessible through Dir Road via National Highway N-45. It is an attractive place for tourists with full of picturesque places to visit.
Kumrat Valley is surrounded around the Panjkora River within dense green forest and covered with snow covered mountains.
Picture Location Map