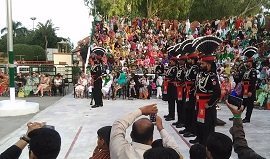 Parade at Ganda Singh Border (Punjab)
Since 1970, Retreat Ceremony has been conducted daily just like the Wagah Border Ceremony. There are enclosures for visitors to attend the ceremony at Ganda Singh Border.
About Ganda Singh Border
Ganda Singh Border is an international border between Pakistan and India in Ganda Singh Wala village. The border is now closed after the 1970 war between Pakistan and India, but tourists can visit the area to observe the India-Pakistan border.
Picture Location Map