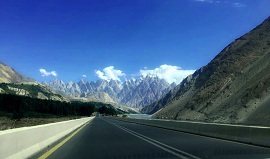 Passu Cones from Karakoram Highway (Gilgit Baltistan)
Passu Cones are visible from the Karakoram Highway, it is one of the most beautiful group peaks and you will get its beautiful sight just from Karakoram Highway.
About Passu Cathedral
Passu Cathedral, also known as the Tupopdan Peaks or Passu Cones, is located at the altitude of 20,033 feet in Passu village on Karakoram Highway near the Hunza River. It is the most beautiful picturesque peak in Gilgit-Baltistan. It is worth staying here to get the beauty of this town in the high mountains before moving toward the Khunjerab Pass.
Picture Location Map