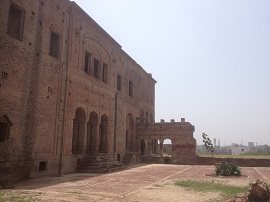 2017-07-06
Resident Building Sheikhupura Fort (Punjab)
It is a double storey building used for residency, added by Ranjit Singh for one of his wife.
About Sheikhupura Fort
Sheikhupura Fort was built in 1607 in Sheikhupura in the reign of Emporer Jahangir, designed by Sikander Moeen. It was altered in the Sikh regime and many of the decorations of buildings inside the fort has Sikh style frescoes. It was used by Jahangir for accommodation during his visit to hunting place, known as Hiran Minar.
About Sheikhupura Fort
,
Sheikhupura Fort Gallery
Sheikhupura Fort Map