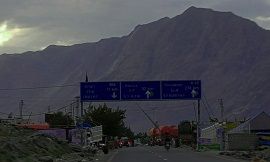 Sakwar (Gilgit Baltistan)
Sakwar is small town and gateway to Gilgit City on the bank of the Gilgit River. Sakwargah Nallah is merged at Sakwar with the Gilgit River. Karakoram Highway is turned toward Hunza from here and Gilgit Road moves toward Gilgit City, Ghizer and Shandur National Park.
About Gilgit
Gilgit is a splendid place for tourists, situated at the altitude of 4800 feet in the southwest of Karakorum Range in Baltistan Province, an administrative territory of Pakistan. The weather condition of Gilgit is normally dry and hot due to the blockage of monsoon wind and rain by Nanga Parbat Mt. Due to this climate effect, it shows an entirely different scenery in the mid of snow-covered mountains and green fields.
One of the best beauty of Gilgit is the Karakoram Highway along the Gilgit River in the Gilgit area, one can find a number of rock carvings and drawings from the Buddhist time period along the road, especially in Passu village near Hunza Valley.
The main attractions of the Gilgit are the beautiful valleys of its surroundings such as Juglot, Danyore, Naltar, Nomal, and Bagrot Valley. Distaghil Sar at an elevation of 25,869 feet is the highest peak in the Gilgit district, which is the 19th highest peak in the world.
Gilgit is the administrative capital of Gilgit-Baltistan Province, so it is considered a hub for tourists to visit various valleys in Northern Areas.
Picture Location Map