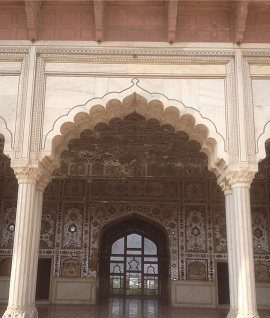 Sheesh Mehal Shahi Fort (Punjab)
Shish Mahal is one of the most unique and decorated building in Shahi Fort. It was built by Asif Khan on the order of Emperor Shah Jahan in 1631-32. It contains one large hall in the front and small rooms on its back on both sides.
It is decorated with convex mirror mosaic work with stucco tracery, gild work, pietradura work, marble screen on its back in tendril and geometrical designs and mosaic work with stone of different colours on its floor. There is a circular shaped shallow water basin with four fountains and a marble platform in its centre in the courtyard in front of the palace hall. Water is running in four water channels in all sides of the courtyard.
About Shahi Fort
Lahore Fort, also known as Shahi Fort, was built in 1566 by Akbar, the Mughal Emperor, and is easily accessed by bus, wagon, or any conveyance from Lahore Railway Station. It is the largest historical construction in Lahore with a number of beautiful buildings inside it. It is located on the northern side of the walled city Lahore. Its most beautiful part is Sheesh Mehal, and other main areas are the Throne room, the Diwan-e-Aam, the Elephant Gate, Jehangir\'s Quadrangle, the Naulakha and Moti Masjid.
The main entrance, also know as Hathi Pul, was the private entrance for the royal families toward royal residency in Shahi Fort. The grand entrance Alamgiri Gate was constructed in front of the Badshahi mosque by Emperor Aurangzeb. All other buildings in the fort are located along the path.
With the fall of the Mughal Empire, the fort was captured by Sikh and used as the residency by Emperor Ranjit Singh. After the British victory in the Battle of Gujrat in 1849, the fort was under the control of the British Government.
The administrative section of the fort is connected with Diwan-e-Khas and gardens, whereas the private residential section includes courts and Sheesh Mahal.
Nowadays, tourists attract to view the historical buildings in Shahi Fort and enjoy a picnic day there. For the history lovers, there are museums in the fort to present the history of different periods in Indo-Pak from the Mughal empire to British Rule.
Sheesh Mehal is the most beautiful building in the Shahi fort, which is located within Jahangir\'s Shah Burj. It was constructed in the era of Emperor Shah Jahan. Its walls are decorated with frescoes with pietra dura and complex mirror-wok.
The Naulkha Pavillion is also another iconic building in the fort and was constructed in the era of Shah Jahan. It is made of white marble with a distinctive curvilinear roof.
Moti mosque is also constructed with white marble in the Shah Jahan period near Alamgiri gate.
Picture Location Map