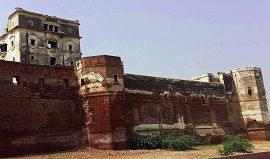 Sheikhupura Fort Surrounding Wall (Punjab)
Sheikhupura Fort is enclosed within the more than 25 feet high wall, constructed with red bricks. Wall has chambers at the corners of the fort as well as in the center of the walls. These chambers were used to get the overall view of the city to observe all of the movements.
About Sheikhupura Fort
Sheikhupura Fort was built in 1607 in Sheikhupura in the reign of Emporer Jahangir, designed by Sikander Moeen. It was altered in the Sikh regime and many of the decorations of buildings inside the fort have Sikh-style frescoes. It was used by Jahangir for accommodation during his visit to a hunting place, known as Hiran Minar.
Fort is located 3 km from Sheikhupura Railway Station via Jandiala Road. It is severely damaged and not suitable to visit, but by getting permission from the Punjab Tourism, it can be visited but with due care.
Picture Location Map