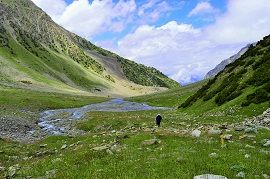 Shukargah Valley (Gilgit Baltistan)
Sukhargah Valley is lush green deep valley surrounded by mountains in Ishkoman valley in Ghizer district.
About Shukargah
Shukargah is one of the beautiful valleys in Gizer near Chatorkhand in Ishkoman Valley. Along the Hayool Gol, there broader and deeper valley with lush green meadows and streams. There is also a number of beautiful and attractive lakes in this area.
Picture Location Map