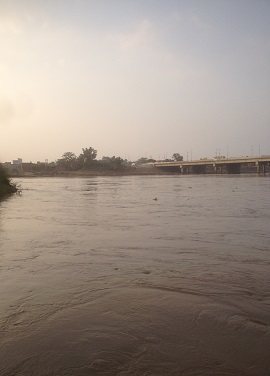 The River Ravi Siphon (Punjab)
The River Ravi coming from India at Siphon, as the River Ravi is flowing near the border between Pakistan and India, on some locations it enters into Indian territary and on some locations it is in Pakistan.
The Ravi River, a tranboundary river between India and Pakistan, is major part of the indus River Basin. It originates in the Himalayas, from the Bara Bhangal, Kangra district in Himachal Pradesh, India, and finally drain itself in the Chenab River in Punjab, Pakistan. Its water is allocated to India under the Indus Waters Treaty.
About Siphon Fishing Point
Siphon is the important fishing point in Sheikhupura district near Lahore city at the Ravi River, near the border between Pakistan and India. It can be accessed through G. T. Road, turning left from Jallo near Wagha Border at the distance of 28 km from Lahore Railway Station. It can also be accessed from Lahore - Islamabad Motorway M-1, Lahore-Kala Khatie Narang Road and turn right to Ghazi Kakka Road at the distance of 69 km from Sheikupura Batti Chowk.
It is a good visiting point for fishing, but one has to wait for luck. Another very interesting point about Siphon is the crossing of the River Ravi over the BRB Canal, which is an amazing and scientific method to cross liquid from one point to another. It is a very good picnic spot due to the pleasant and calm environment of the Siphon with green fields in the background and cool water flowing in front of you.
Siphon has very important memories about the martyrs of the 1965 war between Pakistan and India.
Picture Location Map