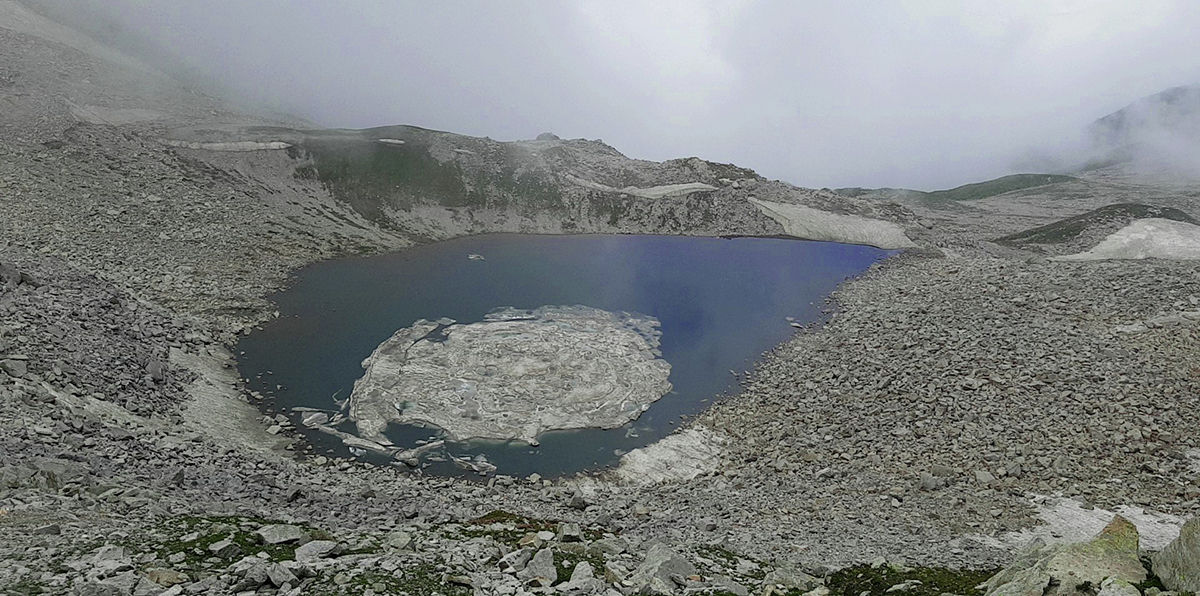 Ansoo Lake (Khyber Pakhtoonkhwa)
Ansoo Lake, the most beautiful lake, is situated in Kaghan Valley near Malika Parbat in Manoor Valley at the altitude of 13,940 feet. It is just like the tear drop shape, so named as - Ansoo -, means teardrop in English. It also looks like humna eye in shape.
There is no way to physically access the lake due to its physical structure of steep snow walls in the crator. Tourists can only view the lake at the distance, there is no place to stay there, as camping is very much risky there due to severe icy cold weather and heavy wind around it. It also covers with fog and clouds most of the time, so getting the clear view of it, is on chance.
It can be accessible from Saif-ul-Maluk lake through a steep trek within 3-4 hours. Trek is normally covered with snow and only accessbile in short period from mid of July to mid of August. Trek is not easy but presents picturesque view to the trekkers, so tourists can capture the valuable moments of their life there. The first destination on the trek is the Malika Parbat Base camp, which rather easier part of the trek. After that, trek is more steeper and difficult to travel, so tourists must have proper equipments and foods with them. Returning back before the evening is better, as camping in icy weather and windy atmosphere becomes the most difficult part of this tour.
Ansoo Lake is also accessible through Mahandri village, that is located at 40 km to the south of Naran. To the left of Mahandri Bazar, a jeep track is used to access Manoor village. From here, a 6-7 hours trek leads toward Ansoo Lake, passing through a beautiful green meadow, known as Dher at the altitude of 16,500 feet. After Dher, by crossing a steeper trek, lake is visible from the top of the mountain.
Ansoo Lake Map