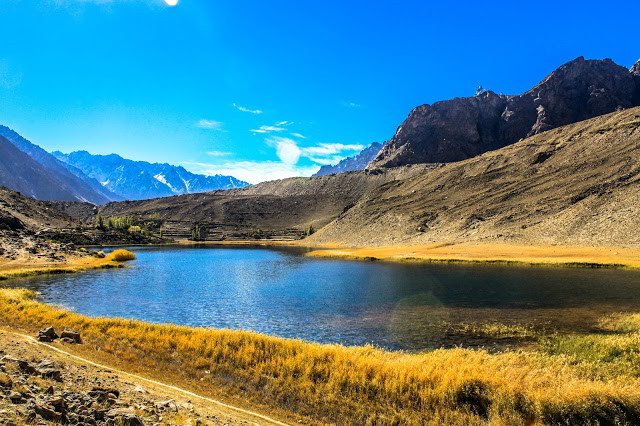 Borith Lake (Gilgit Baltistan)
Borith Lake is located in Borith village at an altitude of 8,500 feet, near Husseini village in Gulmit, Gojal in Gilgit Baltistan on Karakorum Highway.
The lake is accessible via 2 km jeep route from Husseini village adjacent to Ghulkin village. Alternatively it can be accessed within 2-3 hour trekking route directly from Ghuylkin at the end of the Ghulkin glacier. Lake is home land of differnt type of birds, so tourists can enjoy natural views of those birds in the lake.
About Hunza
Hunza, a mountainous valley in Gilgit Baltistan, is situated at a distance of 98 km from Gilgit city. There are several high peaks above 20,000 feet in Hunza Valley and provides a splendid view of many high mountains such Rakaposhi (25,551 ft), Bojahagur Duanasir II (24,045 ft), Ghenta Sar (19, 980 ft), and Hunza Peak (20, 571 ft).
Hunza valley has a number of important and popular tourist places such as Larimabad, Baltit Fort, and Altit Fort.
The climate of Hunza is cold, in winter, heavy snow blocks every access to the valley whereas summer is cool and pleasant and attracts tourists in this area.
Borith Lake Map